Overseas Career Accelerator
Program
by Japademy's Career Experts
■ Are you ready to kick-start your caeer abroad?
■ Have you've always dreamed of living, studying and working in another country, but not really sure if you should simply drop everything you have built in your home country and finally go for it?
■ Would love to be helped, guided, and supported by credible and dependable overseas-based experts who will help you avoid the pitfalls and frustraion that comes with achieving your overseas career dream?
JapaDemy"s Overseas Career Accelerator Program is the exact solution you need!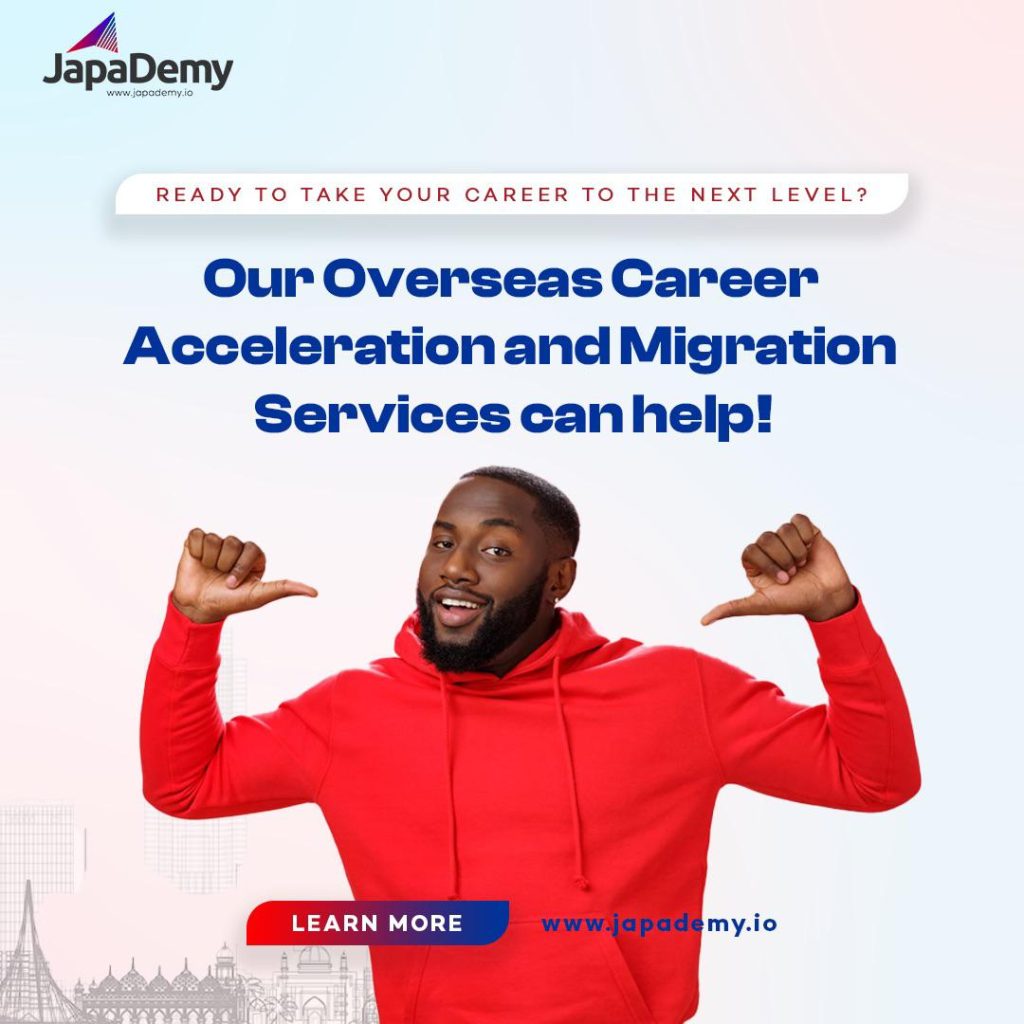 Achieve Your Work or Study Abroad Dream with JapaDemy's
Career Accelerator Program
Career Coaching Masterclasses
Exclusive Mentorship and Coaching Program that Will Unlock the Door to Your Work or Study Abroad Dreams
Study Abroad and Admission Support
Join JapaDemy's Educational Experts to Make Your Study Abroad Dreams Easier, Smoother and Faster
Skilled Workers Shortage List Evaluation
Get a Free Evaluation of Your Skills on the Shortage Occupation List
Special Step-by-Step Job Application Guide
Special Training Session That Provides Simple Step By Step Guide To Finding, Applying, and Getting Genuine Sponsored Jobs ….Without Being Scammed!
Access to Job or School Matching Portal
Get a Lifetime Discounted Access to the Global Skill Mobility Services that Get You Matched With Sponsoring Employers and Study Institutions
Overseas Job Search Optimization
Work with a Selected List of Recruiters and Employers Offering Fully Sponsored Permanent Job Offers
Globallly-Approved International Certification for Caregivers
Get Internationally Accredited Certifications and Skills that Will Make Your Career Journey More Productive
Sponsorship for Visa Application Support
Overwhelming Support and Guidance that Will Help You Navigate Tricky Immigration Process
Migration Support for Work or Study
Avoid Scammers and Fraudsters. Connect with Our Overseas-based Career Advisors and Relocation Experts
SIGN UP TO JOIN THE NEXT COHORT